Representative image
KOLKATA: Carrying banned electronic devices inside examination halls would be nearly impossible for West Bengal Joint Entrance Examination aspirants this year. The JEE board has decided to arm every centre-in-charge with a hand-held RFID (radio frequency identification) device to detect mobile networks on campus.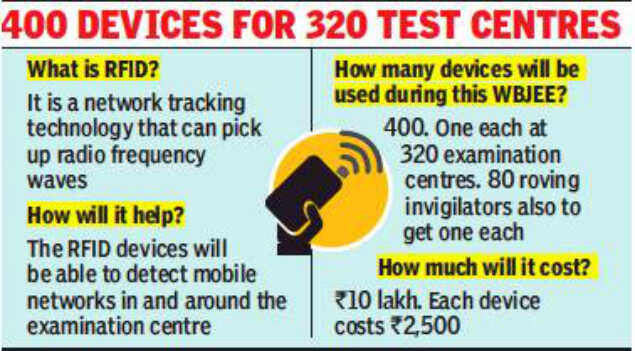 The decision was taken at a meeting of the JEE board last week.
Over a lakh candidates will sit for the WBJEE at 320 examination centres across Bengal on May 26.
This is one of the first times that RFID technology will be used to check unfair practices during a major national entrance examination. The decision was prompted by the repeated leak of question papers within minutes of the start of examinations during this year's Madhyamik. The HS council, which had armed a few of its roving observers with RFID devices this year, had managed to detected 16 mobiles. The CBSE, which has adopted several stringent measures to prevent paper leaks, is yet to try out this approach.
"The device can pick up any radio frequency and direct the person holding it towards the spot where the network is strongest," explained teacher of electronics and telecommunications department at Jadavpur University, Bhaskar Gupta, who had earlier experimented with such devices at a couple of locations during the 2015 WBJEE, when he was at the helm of the board.
According to board insiders, frisking of students, besides being intrusive, is not a foolproof method. "Transmitters can be hidden inside spectacle frames or hair buns or even undergarments. In several examination centres, there is a scarcity of women police personnel and many students can simply walk through the metal detectors," the official said.
There are many other ways in which candidates can dodge check-points and reach the examination halls," the official said adding that these loopholes left no option for the JEE board but to introduce RFID devices in a massive scale this year.
"For us, the sanctity of the examination and security are very important. That is why we have made this extensive plan of using RFIDs," said JEE Board chairman, Malayendu Saha.
The JEE board has ordered 400 RFID devices — each costing Rs 2,500 — for its 320 examination centres and 80 roving invigilators. "Large centres that have more than 400 candidates appearing in the test will have more than one centre-in-charge, but only one will have the device," said a board official.
In 2015, when the JEE Board first experimented with RFID devices, its roving invigilators were able to identify five students using either smartphones or smartwatches during surprise checks.
["source=timesofindia.indiatimes."]