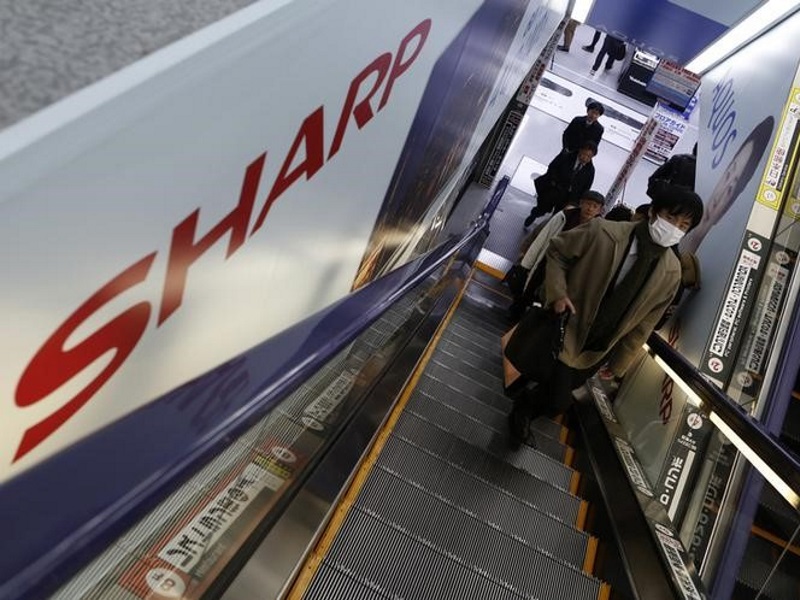 The chief executives of Sharp Corp and Foxconn plan to meet on Friday in China, a person familiar with the matter said, a day after the world's largest contract maker of electronic goods put its takeover of the Japanese firm on hold.
Shares in Sharp slid 11 percent on Friday after sources said previously undisclosed liabilities were responsible for the last-minute hitch.
Just hours after the loss-making display maker announced it had decided to sell a two-thirds stake toFoxconn, the Taiwanese firm said it would not sign the deal until it had clarified some "new material information" from Sharp. It did not elaborate.
The 11th hour delay despite an announcement – rarely heard of in major M&A talks – has thrown into doubt Foxconn's quest to gain Sharp's advanced screen technology and strengthen its hand with major client Apple Inc.
A deal was also supposed to have signalled the opening up of Japan's insular tech sector to foreign investment.
Sharp had contingent liabilities of around JPY 300 billion ($2.7 billion), three sources familiar with the matter said. That contrasts with Foxconn's own due diligence which had revealed liabilities of only just under JPY 100 billion, one of the sources said.
The sources, who declined to be identified due to the sensitivity of the matter, did not elaborate on the nature of the liabilities. Reuters has not seen any documents regarding the new information.
Sharp said in a statement on Friday that it has been disclosing its contingent liabilities properly. A spokesman for Foxconn declined to comment on the issue.
Sharp also declined to comment on the planned meeting between Foxconn founder Terry Gou and Sharp CEO Kozo Takahashi.
Jefferies analyst Atul Goyal said the entire deal was in jeopardy. "This is especially so given the dramatic back and forth that happened between Sharp and Foxconn in 2012, when Foxconn agreed to acquire a stake in Sharp but then later walked away," he wrote in a note to clients.
Sharp's creditor banks have also said they were also not aware of the size of the contingent liabilities until the last minute, separate sources familiar with matter said.
Mizuho Financial Group Inc's Mizuho Bank said it could not yet comment while a representative for Mitsubishi UFJ Financial Group Inc's core unit Bank of Tokyo-Mitsubishi UFJ was not immediately available for comment.
The plunge in Sharp shares added to losses a day earlier that came as planned share dilution under the deal looked larger than expected. The stock has lost nearly a quarter of its value over the past two days.
Foxconn's shares were, however, little affected on Friday, edging down just 0.6 percent.
[Source:- NDTV]