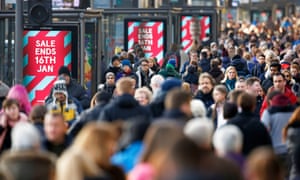 Time for a quick summary of the corporate news doing the rounds today:
RBS said Brexit uncertainty has "gone on far too long", as the bailed out bank reported a doubling of profits in 2018 and fresh dividend payouts that will hand the government £1bn
Premier Foods has abandoned plans to sell-off Ambrosia, its custard and rice pudding brand, blaming the current business climate for a lack of acceptable offers
PepsiCo has warned that earnings will fall this year for a number of reasons, including a stronger dollar, a higher tax bill, and an increase in investment
Patisserie Valerie's administrators announced the £2.5m sale of its Baker & Spice bread cafes to the Department of Coffee and Social Affairs chain
Just Eat said it had reached a milestone of 500m orders in the UK, in a week when activist investor Cat Rock Capital Management pushed for the takeaway firm to merge with a rival
1h ago12:01
The FTSE 100 is currently at a four-month high, up 0.4% or 26 points at 7,223.
Conor Campbell, analyst at spread-betting firm Spreadex, reflects on the latest developments in the US/China trade talks:
A significant shift in sentiment occurred on Friday morning following the latest trade talks update.

After a few days of discussion in Beijing, President Xi Jinping has said that the talks will continue in Washington next week, both sides still chasing that elusive deal before the ceasefire ceases at the start of March.

This faint whiff of progress was enough to cause the markets to reverse the losses that had come after the double-hit of Donald Trump's 'national emergency' chat and China's inflation-slowdown.

With the market cheering the apparent US-China progress, it is going to be interesting to see how much the trade war fears have weighed on the latest round of American data, including the industrial production and consumer sentiment figures.
2h ago11:19
Here is our full story on those better-than-expected UK retail sales:
2h ago11:14
Report: US/China trade talks to continue in Washington next week
Reuters brings this report following talks in Beijing this week between US and Chinese trade negotiators:
Chinese President Xi Jinping said on Friday trade talks with the United States will continue in Washington next week and that he hopes the two sides will be able to reach a mutually beneficial deal in the upcoming negotiations, state media reported.
Xi said during a meeting with U.S. Trade Representative Robert Lighthizer and Treasury Secretary Steven Mnuchin that talks in Beijing this week made progress and that China is willing to solve economic and trade disputes with the United States via cooperation, according to a report by Xinhua.
Lighthizer and Mnuchin said during the meeting that they maintain hope although there is still much work to be done, and that they are willing to work with China to reach a deal that is in line with the interests of both countries, according to Xinhua.
2h ago10:36
European shares rebound on trade hopes
Sentiment among European investors has become a little more positive as the morning has gone one.
It seems that traders are clinging on to the merest suggestion of progress between US and China's trade negotiators in Beijing.
Steven Mnuchin, the US trade secretary, said in a tweet that the meetings in China were "productive", offering no other detail (and still no sign of a memorandum of understanding):
Here's how markets are looking:
Germany's DAX: +0.1% at 11,098
France's CAC: +0.8% at 5,103
Italy's FTSE MIB: +0.4% at 19,911
Spain's IBEX: +0.5% at 8,999
Europe's STOXX 600: +0.5% at 366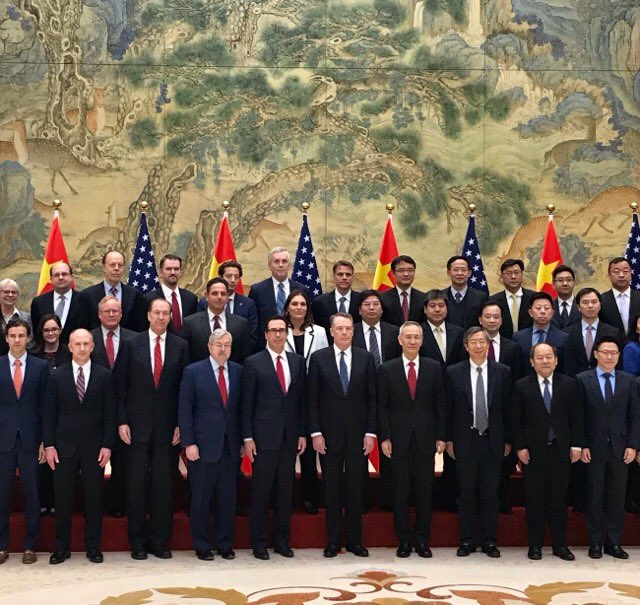 3h ago10:28
UK consumers are still in "happy-go-lucky" mood according to Samuel Tombs at Pantheon Macroeconomics.
January's jump in retail sales shows that most households have maintained a happy-go-lucky mentality, despite the fraught political situation. While consumers' confidence is down, this reflects rather fuzzy expectations that Brexit might be costly eventually.

Right now, households' real incomes are being supported by low inflation, a decade-high rate of nominal wage growth and solid employment gains. Low confidence will prompt consumers to hold back from buying cars, booking holidays and moving home, but the high street will be protected.
3h ago10:23
Thomas Pugh, economist at Capital Economics, agrees that the outlook for retail sales in the coming weeks and months is heavily dependent on the Brexit outcome:
In contrast to the Brexit pessimism, which seems to be weighing on other sectors, the rise in retail sales volumes in January implies that consumers are still willing to spend.

Of course, unless a Brexit deal is signed soon, sales could weaken over the rest of Q1.

However, if a no deal Brexit is avoided, consumers should be in a good position to ramp up spending in the second half of the year.
3h ago10:22
James Smith, an economist at ING bank, warns that the positive retail sales figures mask a tough backdrop for the UK high street:
Brexit uncertainty is likely to keep a lid on spending over the next few months. Despite an improvement in real wage growth, consumer confidence remains at the lowest level since 2013, led by concerns about both the economic climate and personal finances.

There is a risk that, as the Brexit deadline draws nearer, nervousness about the impact of 'no deal' will creep into the consumer mindset. At the very least, shoppers may opt against bigger ticket purchases in the short-term, instead choosing to maintain savings levels.
3h ago09:58
At 4.2%, the annual rate of growth in retail sales is the strongest in more than three years (since December 2016).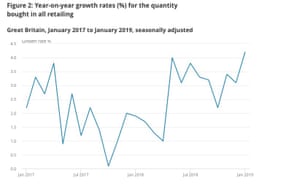 Updated at 9.59am GMT
3h ago09:52
The stronger-than-expected retail sales have helped the pound a tad, which is now roughly flat against the dollar at $1.2809.
However, Moneycorp's Lee McDarby says investor minds are elsewhere:
Despite Brexit uncertainty and a stuttering economy, consumers have begun 2019 in a buoyant mood. These better than expected results may have been helped by the surprise drop in inflation, putting more money in consumer's pockets.

After a week of poor economic data, these figures are unlikely to have much impact on the pound. Moreover, in today's currency market the strength of Sterling is largely being determined by markets' expectation of a deal or no deal.
3h ago09:35
Rhian Murphy, head of retail sales at the ONS, said price discounts helped to convince shoppers to splash out on clothing in January:
Retail sales returned to growth, with increases across most sectors.

Clothing stores saw strong sales, luring consumers with price reductions with food sales also growing after a slight dip over Christmas.
3h ago09:33
UK retail sales rise in January
Breaking: UK retail sales rose 1% in January, easily beating expectations of a 0.2% increase.
The figure for December was also revised up, to show a 0.7 fall, compared with the previously estimated fall of 0.9%.
It lifted the annual rate of growth to 4.2%, from 3.1% a month earlier.
4h ago09:20
It's almost time for UK retail sales data, which will give the latest insight into consumer willingness to spend as Brexit nears.
City economists are expecting the Office for National Statistics to say sales rose 0.2% in January, following a 0.9% fall in December.
The figures are out at 9.30am.
4h ago08:52
Pound comes under fresh Brexit pressure
The pound has dipped below the $1.28 after Theresa May's latest Brexit defeat in the Commons on Thursday.
Sterling is down 0.2% at $1.2792 after the vote cast fresh doubt that the PM has the power to win parliament's support for an amended EU withdrawal agreement.
The pound is faring slightly better against the euro, up 0.1% at €1.1350.
Neil Wilson, chief market analyst at Markets.com, puts the RBS numbers into context:
RBS delivered a stellar set of numbers and a forecast-beating dividend payout to investors, but Brexit and other factors mean it will fall short on its cost cutting target.

On the whole this was just what investors have been waiting for. Profits rose to £1.6bn, ahead of the consensus for around £1.4bn and more than double the £752m a year ago.

Shares could well continue their 2019 ascent today, although the prospect of the government selling down its stake will act as a residual weight on the stock performance. The real question is just how quickly the Treasury decides to sell down its stake.

Philip Hammond may well feel that a selling the roughly £18bn the government owns would be a nice little bonus for his Brexit war chest. At £2.41 on the close yesterday the shares are worth half what the government paid for them, but needs must some times.
RBS shares are currently down 0.4% at 240.6p.
Profits at bailed out RBS more than double
Royal Bank of Scotland has kicked off the UK banks' reporting season this morning with better than expected results.
Profits more than doubled in 2018, to £1.6bn from just £752m a year earlier.
It was the second consecutive year of profit for the bank since its £45bn state bailout in 2008, and prompted RBS to payout dividends that will include £1bn for the public purse.
European investors subdued as trading gets underway
The mood across European markets is distinctly subdued this morning:
FTSE 100: flat
Germany's DAX: -0.4%
France's CAC: flat
Italy's FTSE MIB: -0.2%
Spain's IBEX: -0.1%
Europe's STOXX 600: -0.1% 
US worries weigh on investors ahead of UK retail sales
Good morning, and welcome to our rolling coverage of the world economy, the financial markets, the eurozone and business.
Donald Trump's readiness to declare a national emergency in order to build his border wall with Mexico has been weighing on on investor minds overnight.
Wall Street fell on Thursday, and Asian markets followed on Friday, with sentiment also hit by a surprise slide in US retail sales, which fell 1.2% in December – the biggest fall in nine years.
The Nikkei fell more than 1% while the Hang Seng was down nearly 2% as investors found little to cheer.
["source=theguardian"]