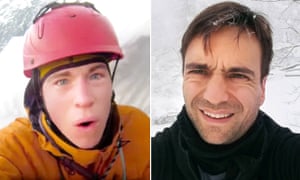 The bodies of Tom Ballard and Daniele Nardi, the British and Italian climbers who went missing a fortnight ago, have been found on the mountain Nanga Parbat in Pakistan.
Italy's ambassador to Pakistan, Stefano Pontecorvo, said on Saturday that the search team had confirmed that silhouettes spotted on the mountain "through telescope and pics beyond reasonable doubt" were the bodies of the two men.
Four Spanish rescuers were flown in by a military helicopter on Monday, joining Pakistani mountaineer Ali Sadpara at base camp to conduct the search.
On Twitter, Pontecorvo wrote: "With great sadness I inform that the search for Daniele Nardi and Tom Ballard is over as Alex Txikon and the search team have confirmed that the silhouettes spotted on Mummery at about 5,900 metres are those of Daniele and Tom. RIP."
While the bodies were difficult to reach, rescuers promised that everything would be done to recover them. Ballard and Nardi last made contact on 24 February, from an elevation of 6,300 metres (20,670 feet). Nardi, 42, had attempted the Nanga Parbat summit several times before. In 2015, Ballard, 30, became the first person to solo climb all six major north faces of the Alps in one winter.
He and Nardi began prepping for the challenge in December. Dubbed "Killer Mountain", Nanga Parbat is in Pakistan's Gilgit-Baltistan area and is the ninth highest mountain in the world at 8,126 metres (26,660 feet). Two Pakistani mountaineers had joined the pair on the expedition but turned back because they thought the weather conditions too dangerous.
Nonetheless, spirits were high. In his last post on Facebook, on 19 February, Ballard wrote: "Basecamp life is becoming, almost, like a holiday while we wait for that elusive weather window. Many new and interesting drytooling boulder problems, luncheon in the sun and afternoon skiing. What more could you want?"
Twenty-four years ago, Ballard's mother, Alison Hargreaves, died while climbing K2, another infamous Pakistani mountain. Hargreaves had recently embarked upon a career as a professional mountaineer but died just months after becoming the first woman to conquer Everest unaided.
Ballard was born in Derbyshire but the family, which included his father, Jim, and younger sister, Kate, moved to the Scottish Highlands in 1995. In more recent years, Ballard had been living in Italy's Dolomites mountain range with his father. On Facebook, Ballard's girlfriend, Stefania Pederiva, wrote that her heart was "completely drowned" with sorrow. She added: "There are or will never be words suitable to describe the void you left."
We made a choice…
… and we want to tell you about it. Our journalism now reaches record numbers around the world and more than a million people have supported our reporting. We continue to face financial challenges but, unlike many news organisations, we haven't put up a paywall. We want our journalism to remain accessible to all, regardless of where they live or what they can afford.
This is The Guardian's model for open, independent journalism: free for those who can't afford it, supported by those who can. Readers' support powers our work, safeguarding our essential editorial independence. This means the responsibility of protecting independent journalism is shared, enabling us all to feel empowered to bring about real change in the world. Your support gives Guardian journalists the time, space and freedom to report with tenacity and rigour, to shed light where others won't. It emboldens us to challenge authority and question the status quo. And by keeping all of our journalism free and open to all, we can foster inclusivity, diversity, make space for debate, inspire conversation – so more people have access to accurate information with integrity at its heart.
Guardian journalism is rooted in facts with a progressive perspective on the world. We are editorially independent, meaning we set our own agenda. Our journalism is free from commercial bias and not influenced by billionaire owners, politicians or shareholders. No one steers our opinion. At a time when there are so few sources of information you can really trust, this is vital as it enables us to give a voice to those less heard, challenge the powerful and hold them to account. Your support means we can keep investigating and exploring the critical issues of our time.
Our model allows people to support us in a way that works for them. Every time a reader like you makes a contribution to The Guardian, no matter how big or small, it goes directly into funding our journalism. But we need to build on this support for the years ahead.
["source=theguardian"]